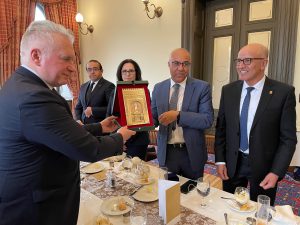 The Hungarian Rectors' Conference welcomed H.E. Mr Minister Abdellatif Miraoui on a working lunch, January 30, 2023
H.E. Mr. Abdellatif Miraoui, Moroccan Minister of Higher Education, Scientific Research and Innovation, and the delegation accompanying him were received at a working lunch on Monday, January 30, 2023 by rectors representing the Hungarian Rectors' Conference. HRC's delegation was composed by Dr. László Borhy, HRC President, Rector of Eötvös Loránd University, Dr. Balázs Heidrich, HRC Vice-President, Rector of Budapest Business School, Dr. Attila Fábián, HRC Vice-President, Rector of the University of Sopron and Dr. Levente Kovács, HRC Board Member, Rector of the University of Óbuda.
In addition to the preparation of the 2nd Moroccan-Hungarian Academic and Scientific Forum to be held in Rabat in the Spring of 2023 participants discussed current issues affecting the Hungarian higher education sector, including the new leadership and management structure of the model-changing institutions, at the meeting.