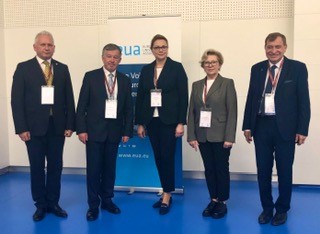 EUA Annual Conference in Budapest
The European University Association (EUA) organized its Annual Conference in Budapest in 2022. The conference was hosted by the Budapest University of Technology and Economics (BME). At this year's event, there were around 400 registered guests from nearly 50 countries attending the three-day event. This year's programme allowed participants to discuss the core values ​​of European universities in organizing institutional work, strategic collaborations, achieving individual and common goals, planning future collaborations, and opportunities to expand networks and international research projects.
During the conference, a special section was dedicated to focus on the war in Ukraine and its consequences to the Ukrainian highe education sector, information on the progress made in supporting those who have been harmed due to the violence, and those who have been forced to flee their homes.The speakers of the 'Spotlight on Ukraine' panel included Olga Porkuian, Rector of the Volodymyr Dahl East Ukrainian National University in Ukraine; Kseniia Smyrnova, Vice-Rector for International Cooperation at Taras Shevchenko National University of Kyiv, Ukraine; László Borhy, President of HRC; and Jerzy Lis, Rector of AGH University of Science and Technology in Poland. The section was chaired by Michael Murphy, President of EUA.
At this 'Spotlight on Ukraine' panel, the President of HRC presented the humanitarian assistance of Hungarian higher education institutions and the role of HRC in the current critical situation. The section was a great opportunity for the speakers to share their experiences, and for the participants to listen to the testimonies of those, who are directly affected by the ongoing violence and conflict in the area. Furthermore, in connection with global change, the speakers also drew attention to the importance of corporate social responsibility.
The HRC hopes that such events will help in raising more awareness to the war in Ukraine, and urge everyone to take action to help and provide support to those people who have suffered because of this conflict.